There was a little more information in a China.org.cn story today about the Ministry of Environmental Protection's construction ban on two large hydroelectric projects on the Jinsha River.  Both projects started construction in 2007 and both are owned by subsidiaries of large state-owned power producers (China Huaneng Group and China Huadian Corporation).  The pictures that accompany the story (more can be seen here (see below)  h/t Greenlaw) shows that construction is far advanced; "the cofferdams had been completed and the Jinsha River [has been] dammed."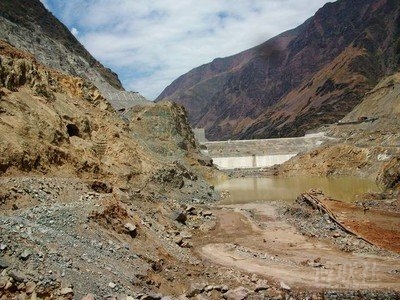 The construction crews at the sites did not seem too concerned about the MEP's order.
Zhou Weidong, general manager of the Ludila plant [a subsidiary of China Huadian Corporation], insisted that the MEP's discontinuation order did not have a big impact on the overall project.
"It only covers construction of the main dam between cofferdams in the upper and lower parts which would have to be discontinued during the flood season in June," Zhou said.
"The original river course has been blocked for the use of dam construction."
Banking on the fact that projects where over 2 billion yuan (U.S.$292.54 million) has been invested so far will not be postponed indefinitely, General Manager Zhou utters a statement which becomes an instant favorite to take top honors in today's  "Pan Jiahua ill-considered quote" contest.
"What is done cannot be undone," Zhou said. "The environmental appraisal report seems to be a mere scrap of paper under such circumstances."  Zhou argued the MEP's discontinuation order was purely a procedural problem and unrelated to the environment.
These companies know what they are doing when they start construction without approval of an EIA.  As China.org.cn noted:
Major projects, like building hydropower plants, are required to go through an "early stage" during which they must receive appraisal from the MEP before work can begin on the main part of the project. But investment costs are highest in the early stage, and companies would suffer great economic losses if they fail to pass the appraisal. Rather than wait and risk losing money, companies begin construction without formal approval.
I hope the MEP sticks to its guns, forces an EIAs to be prepared, and requires significant retrofits or kills the projects if the environmental impacts can not be adequately mitigated.  Time will tell.  For now, enjoy the pictures, savor Zhou's quote, and gaze into the face of green power in China.