Reuters has prepared a nice graphic of the three emissions scenarios considered in a recently published report by a panel from the National Development and Reform Commission and the Development Research Center of the State Council.  The panel has previewed its findings a number of times over the past several months, but has now formally published them in 2050 China Energy and CO2 Emissions Report. Feast your eyes on a climate death sentence: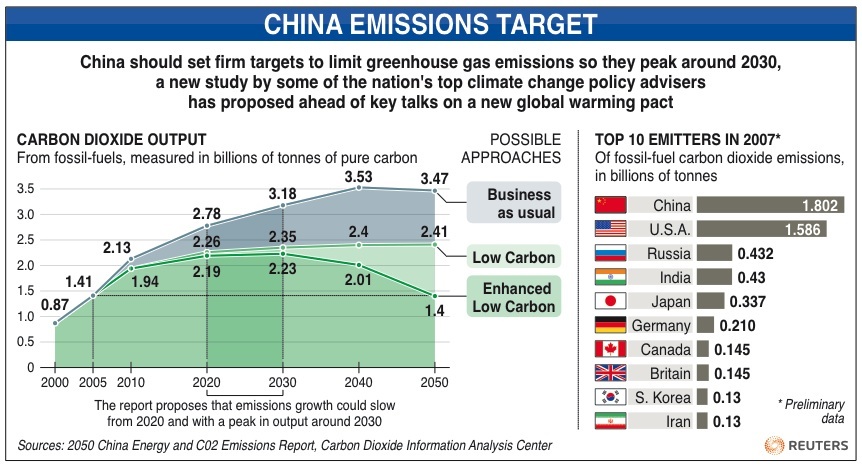 There is no guarantee that the Chinese government will translate any of the report's recommendations into domestic action or policy, much less make them part of its Copenhagen negotiation strategy, but the disturbing fact is that there is no chance, let me repeat that, NO CHANCE, China will agree to any scenario better that the "Enhanced Low Carbon" approach, and that isn't good enough.
I base my "no chance" assessment on the simple fact that China's top leadership will only commit to actions that have been thoroughly studied and for which costs have been estimated.  This is the only purely domestic effort (there have been a few private studies: McKinsey's "China's green revolution" and the UK's Tyndall Centre China's Energy Transition: Pathways for Low Carbon Development) that has studied the issue and estimated costs; its conclusions, therefore, will inform and guide public policy to the extent China is inclined to budge from its current "no limits" official position.
In the best case scenario (which I still consider to be extremely unlikely), sometime between now and whenever a Copenhagen deal is struck (which could be after the December meeting itself) , China will put in place or signal commitment to actions that will allow it to embark upon the "Low Carbon" path. China will demand significant concessions in terms of money and technology transfers to get it to the "Enhanced Low Carbon" path.  Of course, there is no way those will be forthcoming from the US, especially given the relentless drumbeat from some sectors that China is beating the US in the cleantech race.
Let's assume by some miracle China does pursue the "Enhanced Low Carbon" path without strings attached.  Look at the numbers and tell me how we get to an 80% reduction in global emissions in 2050?  We don't. The Cost of Energy Blog has run the numbers, using all the favorite base years.  Can anyone suggest how we reach a 450, much less a 350, ppm world with those kinds of emissions levels from China?