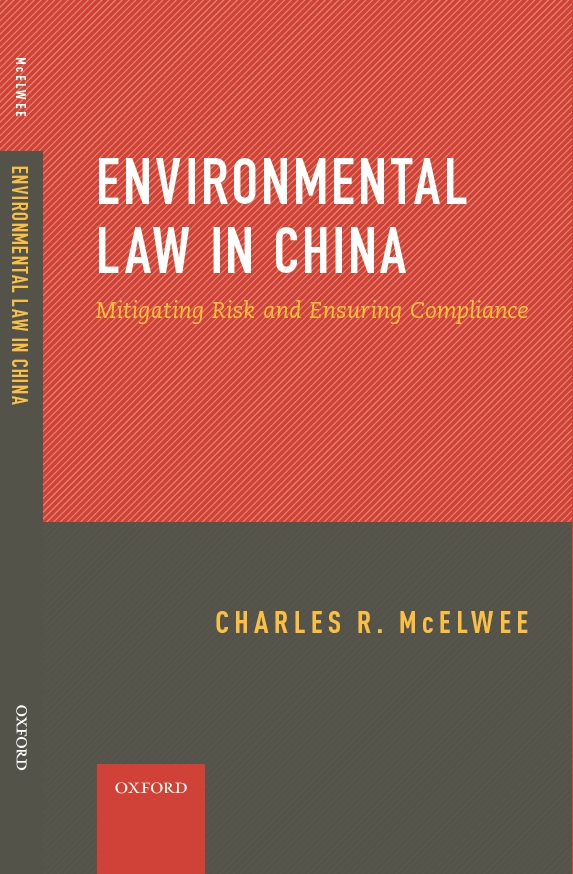 Did you like this blog?  Do you miss your daily dose of commentary on China's environmental laws and regulations? Now you can own the book!
Here's the publisher's blurb:
In recent years, China's leaders have started to confront the environmental, economic, and social costs of unchecked development. China's increasing reliance on foreign oil has engendered national security fears and launched a drive for more efficient transportation systems and domestic renewable energy projects. Meanwhile, pressure from a rising middle class and the international community has focused leadership attention on ways to make China's economic engine run more efficiently and with less impact upon the domestic and global environment. This profound shift in priorities has elevated environmental sustainability to the top of the national agenda. To advance this new agenda, the environmental laws that China has enacted over the past thirty years are being strengthened, and new environmental regulations and standards are being issued everyday. Entities operating in China are faced with the need to understand the impact of China's environmental law requirements upon their businesses, and to take actions to ensure that they are in compliance with those requirements.
In Environmental Law in China: Managing Risk and Ensuring Compliance, Charles McElwee addresses how China's environmental regulatory and legal frameworks are structured, how to maintain operational compliance with the environmental laws and regulations, how to ensure products sold in China comply with environmental regulations, and the potential risks and liabilities that attend non-compliance. McElwee offers unique insight into how environmental law is in fact applied, setting forth a realistic account of the way companies encounter Chinese environmental regulations at both the local and national levels.
What more can I say? Not much, so I'll let some early reviewers do the talking:
"The great challenge in understanding China's environmental predicament involves striking balances. Finding the right balance between despair over the problems and optimism about efforts to correct them, between the ambitious principles stated in legislation and the uneven realities of enforcement across the country, between the forces inside China willing and able to work with international environmental groups and those who shun outside 'interference.' In this book, Charles McElwee offers a clear and useful guide to these balances and to China's green prospects."
–JAMES FALLOWS, National Correspondent, The Atlantic
"Charles McElwee has written a valuable and highly readable primer on China's environmental law framework that also provides important insight into the ways that the law is actually implemented. He points out that the trend in China is toward increased environmental enforcement, particularly of foreign-invested entities perceived to have greater capacity for compliance. All companies operating in China who wish to improve their environmental compliance should read this book."
–ALEX WANG, Senior Attorney; Director, China Environmental Law & Governance Project, Natural Resources Defense Council
"This book is an absolutely necessary reference tool for anyone with manufacturing operations in China. Charles's book is concise, comprehensive, and accurate but more importantly readable, even for non-EHS professionals. Working through China's environmental regulations is a daunting and almost impossible task, and this book provides a road-map for working through China's immense and intricate environmental compliance requirements. I wish I had this resource five years ago."
–DAYTON J. CARPENTER, Former EHS Counsel-Asia Pacific, Eaton Corporation
Where can you purchase this work that shaved years off my life?  Direct from the publisher here or through Amazon here (this link is to Amazon US, so you may have to migrate to the Amazon where you live).  One disclaimer: I didn't set the price, the publisher did (but it's worth every penny).  Please let me hear from you if you've read it.